Chocolate Lab Project: Allie
Notes: 3 samples to review, scroll to see all. Image provided was pretty low in resolution ( see original enlarged below ). We did not request a new photo because this pose was just so adorable. Using my painterly technique I was able to smooth out the image nicely and compensate for a lack of image file size. We added in some plush cushions for color and to also ground Allie so that she was not floating in space. The carrot toy was taken from one of her other photos. We think she looks like a princess on her plush throne.
Proof #1
Full Bodied Allie with toys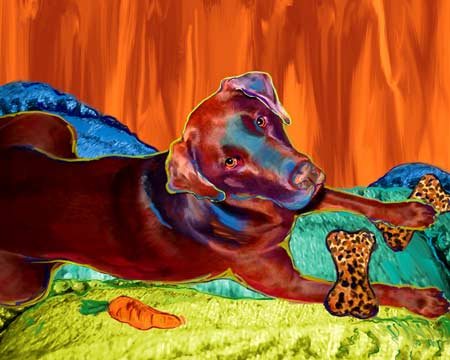 Proof #2
I was ready to upload these first two proofs and my partner informed me that my backgrounds were getting way too predictable. He created the fun Van Gogh inspired swirling background below. Instead of vertical strokes he chose a loose finger painted look with much movement. The difference is subtle, and I like it.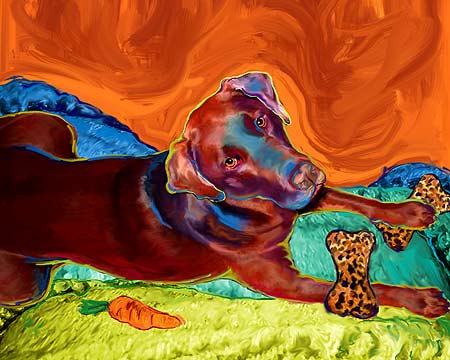 Original image shown below. An odd pixilated texture occurred when enlarging to the 16 x 20 format. Low resolution images do this and then half the battle is smoothing out the odd texture. Most digital artists would not want to tackle this, however I sort of enjoy the challenge, and this is the whole reason I started the painterly look.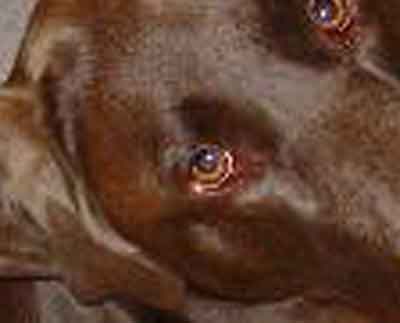 This work of art has been completed. We can immortalize your Lab, too! See our pricing guide for more information.