Scottish Terrier Links and Resources
Be sure and scroll down this long page that is loaded with Scottish Terrier links and fun resources for the Scotty lover. Don't forget to book mark us so you can see what is new each month.






Scottish Terrier Shops

Rescue Shops:
North Texas Scottie Rescue
Scottish Terrier Rescue of North AlabamaAssorted Scottie Shops:
The Scottydogs.com easy to navigate Scottie shopping site ...cool stuff
3 Dog Howl - T-shirts, bumper stickers, etc.
Scotty's Gift Groovy Scottie gifts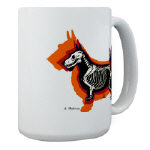 Scottish Terrier Breeders
Art Paw can not personally endorse any of the breeders linked below. When purchasing a Scottie pup, do your homework, meet with the breeders at their Kennel, and avoid purchasing animals solely on-line. The list below is a great starting point. Check with your local clubs and find the perfect Terrier for you.


Scottish Terrier Personal pages


Nostalgia:
Guess we will have to wait until 08 for that sweet Scottie boy to return to the lone star state. Bumper sticker from 04 campaign.